slctvrnt:--::|~|:shwqty:--:true:|~|:qty:--:1:|~|:prdurl:--:https://www.monstermagnetics.com/cart:|~|:prdimgtp:--:product:|~|:prdclass:--:ba-5834281:|~|:prdbtnltp:--:cart:|~|:prdbtnelt:--:_self:|~|:prdbtncpt:--:Add to Cart →:|~|:prdbtnclass:--:zpa-button-xlarge bcss-5834281:|~|:prdbdhtml:--:
More Grilling Work Space!



Now you can conveniently store your grilling tools and utensils and make room for, well...

GRILLING!




In this bundle, we've combined our heavy-duty magnetic hooks, eyelets, split-ring carabiners, and scratch-proof magnet caps into one great kit! We call it 

The Grill Master Collection

 - and it comes with everything you need to clean up the outdoor cooking clutter in a stylish way...




Stick these heavy duty magnetic hooks right to the front of your grill for instant and convenient storage - within easy reach, but out of the way!




This versatile kit includes 3 different hook types so you can choose the right hardware for the type of grilling utensils you have. And the magnets definitely live up to our company standard of

Scary Strong!




25% OFF!

:|~|:mcontclstclass:--:cluster-padding-medium cac-5834282:|~|:mcontclass:--:zpa-plain-product-022-v2 ba-5834282:|~|:imgpos:--:left:|~|:handle:--:heavy-duty-magnetic-grill-hooks-bundle:|~|:descclass:--:pda-5834281:|~|:crtmsgclass:--:pcma-5834281:|~|:clstid:--:1584574:|~|:brdclass:--:zpa-border-style-none zpa-border-thickness-small ba-5834280:|~|:addcrtmsg:--:Product has been added to cart
Our Grill Hooks Aren't Just For The Grill!
Take a look at these photos from real customers!
Magnetic hooks for your grill & smoker tools
We're not KC fans, but we're huge fans of a killer KC barbecue! Our neodymium grill hooks work perfectly on your smoker to stow your utensils and make more room. Isn't that what we all need...someplace to set our beer?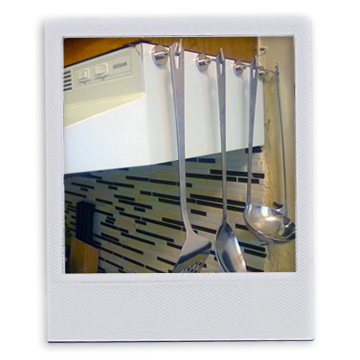 Super-handy in the INDOOR kitchen, too!
Since Magnetic Grill Hooks are super handy in your outdoor kitchen, why wouldn't they be fabulous in the INDOOR kitchen? For those times that you wish you had a hook somewhere to make something easy to reach... Here you go!
Did we mention they're awesome in the kitchen?
Excellent for use on a refrigerator, they're strong enough to hold items that could not be held with standard discount store magnets. Hang utensils, keys, a calendar, pencil pouch, honey-do list... We even include scratch-proof caps
in this bundle
!
:|zpendofcontent|: